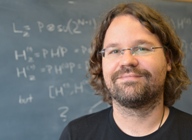 We are pleased to invite Dr Daniel Burgarth to talk to our next meeting on Wednesday 15th April. Daniel will be talking about Quantum Computing for Computer Scientists.
The talk will start at 6pm in A12, Hugh Owen Building, Aberystwyth University. There will be drinks and food available from 5.30pm. A map shows the location of A12 on campus.
Quantum Computing has been in the news regularly for the last couple of decades. Usually weird and wonderful quantum effects are described, and their counter-intuitive nature emphasised. This talk aims at a more down-to-earth approach: what are the aspects of quantum computing which can be understood without a degree in quantum physics? If we could build such a device, which impact would it have on our IT landscape and more broadly technology? And will we ever actually build them, or are they just a sophisticated scam?
Dr Burgarth works in the Institute of Mathematics, Physics and Computer Science (IMPACS) at Aberystwyth University. His research interests include Materials Physics and Quantum Structures, Information and Control. Further information is available at the IMPACS site.
The event is free and open to all. Please do pass on the details to anyone who might be interested.
Webcast
A recording of the presentation is available at: http://jump.aber.ac.uk/?cdmdt Minor technical matter means that the first few minutes of the talk are missing. You can adjust the audio volume using the control under the area where the slides are shown.